CUSTOM FORMS & CUSTOM DESIGNS
With over 25 different field types and too many customizable options to list it's never been easier to build your custom online forms. Indition is the only online form solution that enables you to have multiple designs for the same form. Use the Indition Form Designer to customize the layout and design of your form. Test different designs, different field combinations and different processing options. Use the Indition Page Designer to build the perfect landing page for your form, or embed your new form in an existing web page of yours. The options are truely limitless. let Indition do the heavy lifting of field validation, reporting and secure data collection.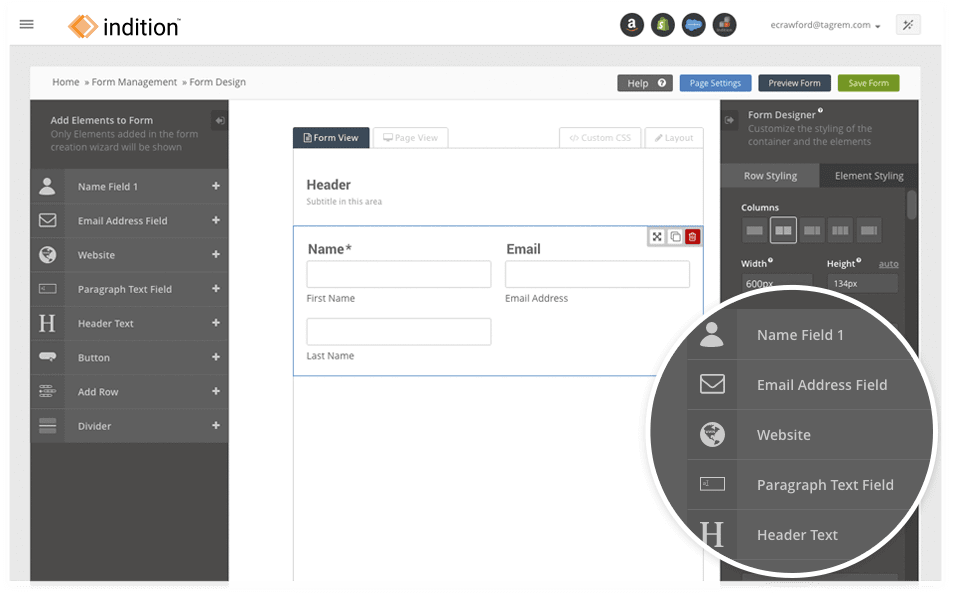 Contact Us Forms

Support Forms

Feedback Forms

Questionnaires
True/False

Giveaways

Contests

Surveys
Sign up today
Indition Desktop & Mobile Forms Feature List
Powerful form builder for online and offline use at
affordable prices,

available instantly.
Free
Bronze
Silver
Gold
Platinum
Mobile App
Includes Advertising
No Advertising
More Forms, More Submissions
More Features
All Features
All Features & Mobile App
Monthly Price
FREE
$5
$15
$35
$85
$185
Pay Annually Option (1 Month Free)
FREE
$55
$165
$385
$935
$2,035
Number of Forms
5
5
50
Unlimited
Unlimited
Unlimited
Submissions Per Month
50
50
1,000
10,000
100,000
100,000

Form Features
125 Pre-Built Forms
Custom Forms
Unlimited Form Fields
Over 30 Field Types
Drag & Drop Field Ordering
Embed Code to Add to Website
Form Categorization
Preview Before Submission
Unique Constraints on Form Fields
Custom User Help Per Field
Custom Placeholders Per Field
Sub Labels for Fields*
Field Default Values*
Displayed vs. Stored Values
E-Signature Field
reCaptcha/ SPAM Protection
Multi-Selection Fields
Date & Time fields for Scheduling
Form Duplication
Field Validation
Duplicate Submission Guard
International Phone Numbers & Postal Codes
Save Form as Draft
Automatic Email Confirmation
Custom Masked Input Fields
Hidden Fields
Form Field Duplication
Text & Images in Forms
Payments with Stripe
File Uploads (multi-file upload)
Conditional fields
Save and Resume Later
Password Protected Forms
Custom Code Protected Forms
Custom Page URLs
Stop Point / Multi-Part Forms
Database Lookup Fields
Field API Validation
Form API Validation
Form Data API Lookups
Mobile Forms iPhone & iPad App

Design Features
Free
Bronze
Silver
Gold
Platinum
Mobile App
Indition Branding
Pre-built Page & Form Designs
Single Page Form Designs
Multi-Step Form Designs
Responsive Forms
Stop Point, Multi-Part Forms
Multiple Designs Per Form
Drag & Drop Designer
Track Submission by Design
Include/Exclude Optional Fields
Design Control at Element Level
Customize Fonts, Colors, Backgrounds & Borders
Custom CSS
Themes & Form Designs
Brandable Pages with Logos
Submit Button Design Control
Form Design Duplication
Mobile Forms iPhone & iPad App
Easily brand your form with your logo
Form View
Page View
Custom Page URLs
Search Engine Indexing Control
Print Form Designs
Custom Domain Names
Google Analytics Support
Google Analytics Event Tracking

Post Submission Actions
Free
Bronze
Silver
Gold
Platinum
Mobile App
Multiple Actions per Submission
Custom Thank You Message in Place or Modal
Conditional Thank You Messages
Stop Point Thank You Messages
Post Submit Redirects
Conditional Redirects
Stop Point Redirects
Basic Email Notifications
Custom Email Notifications
Responder Email Notifications
Multiple Recipient Email Notifications
Conditional Email Notifications
Stop Point Email Notifications
Stop Point Mobile App Push Notifications
Indition CRM API Posts
Conditional Indition CRM API Posts
Salesforce API Connections
Conditional Salesforce API Connections
URL API Posts
Conditional URL API Posts
Custom API Connections
Conditional Custom API Connections
Generation of PDF of Submission
Generation of XLSX of Submission
Sending Calendar Invites based on date/time fields

Reporting
Free
Bronze
Silver
Gold
Platinum
Mobile App
Forms Dashboard
Form Submission Reports
Form Design Submission Report
Daily Form Submission Report
Field Summary Report
Export Reports To Excel & PDF
Landing Page Vistior Tracking

Additional Features
Asset Manager
Custom Integrations
Support
Knowledge Base
Knowledge Base
Email
Email/Phone
Email/Phone
Email/Phone